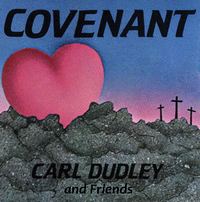 WON'T YOU LISTEN PLEASE: Written in 1976 while attending Puget
Sound College of the Bible. First performed with my band OPEN FIST. Rick King played electric guitar, Rob Farley did the Rhodes and Mark Shulman played drums.

IN THE FATHER'S EYES: Co-written in 1983 with Kent Severns. Kent was
in OPEN FIST with me. Curt Cassingham played bass, Rob Farley played piano and the Rhodes and John Standefer played the nylon string guitar.

ONLY HOPE: Written in 1974, another song first performed with OPEN FIST. Jim Swanson, who was the lead singer in OPEN FIST sang harmony.  Mark Shulman did drums, Rob Farley did piano and Jupiter 6, John Standefer played the electric nylon string guitar solo, Scott James played triangle
and Thom Dudley played 12 string.

OPEN: Written in 1980 and performed with my band FULL LIFE. This band was my two brothers Thom and Rick and me. They joined me on this song along with John Standefer playing the nylon string guitar and the mandolin.

RETURN OF THE KING: Written in 1976 and performed on acoustic
guitars with FULL LIFE. A lot of friends and family make up the choir on the recording. Lesley Pomeroy sang the high soprano. Other backing vocals
are Deb Aase, Edee Dudley, Denny Dudley, Lori Dudley, Eileen Gill, B.T.Gill, Susan Harding and Joanna Morelock. Mark Shulman did the drums, Scott James did the electric guitar and Rob Farley did all the keyboards.

KEEPER OF THE PROMISES: Written in 1984. Inspired by watching my
family grow. Rob Farley joined my brother Rick and I on this track; Rob
played the Jupiter 6.
LOOK AWAY: Written in 1984. I played this live with a 12 string. On the recording I am joined by Rob Farley playing the grand piano and Scott James provided the kick drum using the Jupiter 6.

HOLY ONE: Written in 1977 back in my PSCB days. That's Rob Farley on
the B3, Rick King on the electric guitars and Brian David Willis on the drums.

CHRISTIAN BLUES: Written in 1975 and first performed at the PSCB
spring Gospel Festival. Mark Shulman did these drums as well (long time before he went to work for Pink).

IF YOU'RE ASKING: Written in 1978 with my brother Rick. Brian David
Willis did the drums for us.

ON A BRIDGE: Written in 1984. John Standefer did some nylon string
guitar on this song with me.

COVENANT: Written in 1983. That's Mr. Willis on the drums again, Rick
King on the electric guitar, Rob Farley on the Jupiter 6.
 
Recording and album information: Bass guitar played by Rick Dudley Acoustic guitars played
by Carl Dudley Backing vocals are Thom Dudley, Jim Swanson and Carl Dudley
Cover art by Alice Shull
Recorded Feb-May 1985 Northstar Recording, Portland Oregon 
Recorded and Mixed by Scott James 
Produced by Scott James
Executive Producers Kent and Cheryl Severns for Leon Clinton Productions
 
Mastered for CD by Erik Ames at Super Digital, Portland Oregon
Executive Producers are Kent and Cheryl Severns for Leon Clinton Productions
All songs are © 1985 Carl Dudley
Published 1985 JESU MUSIC
All selections are BMI